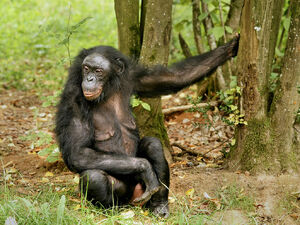 The bonobo (/bəˈnoʊboʊ/ or /ˈbɒnəboʊ/) (Pan paniscus), formerly called the pygmy chimpanzee and less often, the dwarf or gracile chimpanzee, is an endangered great ape and one of the two species making up the genus Pan; the other is Pan troglodytes, or the common chimpanzee. Although the name "chimpanzee" is sometimes used to refer to both species together, it is usually understood as referring to the common chimpanzee, whereas Pan paniscus is usually referred to as the bonobo.
Ad blocker interference detected!
Wikia is a free-to-use site that makes money from advertising. We have a modified experience for viewers using ad blockers

Wikia is not accessible if you've made further modifications. Remove the custom ad blocker rule(s) and the page will load as expected.